How Vertical Horizonz delivers more for less
22 September 2016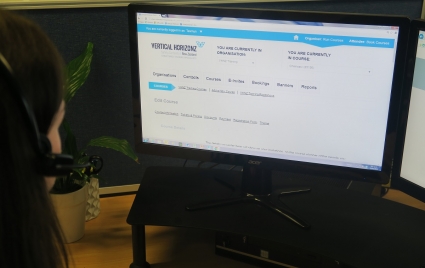 Renowned for high quality training and a dynamic approach to business, Vertical Horizonz was the first training business to drive admin costs down with a Rooster powered booking system. You'll see it at www.vhnztraining.co.nz. The company recovered its investment in the system in less than six months.
Immediate reduction in admin cost
Vertical Horizonz Sales & Marketing Manager, Ben Johnstone says the biggest win from the system was reduced admin costs. In the past his teams recorded course bookings in spreadsheets – lots of spreadsheets. "We realised the benefits of the Booking Rooster almost instantly with reduced booking and record keeping effort," says Ben. "Now we can manage programmes at a fraction of the cost."
"In the past we put each course in a Google calendar then added it to two spread sheets and our CRM," says Ben. "It was quadruple entry. Now we create a course in a single step in Booking Rooster, then add it to our CRM." Future integration with the CRM will eliminate duplication in course set up entirely.
Rapid, controlled course duplication
Ben says the ease of course duplication is a big plus with the system. "It takes very little time to set up the same course at fifty different locations and time slots."
Duplication also adds to accuracy. "We used to enter prices into the calendar manually. It was easy to make a costly mistake. Now the prices for each course are entered once, checked and then applied. There is a lot more control and we have almost eliminated double handling."
Automatic invoicing and receipting
When registrations are made a booking confirmation and invoice is automatically sent to the person who made the booking. "Instant invoicing saved a lot of time from day one – and even more after we integrated with Xero."
In November 2015, after less than a year using the system, Vertical Horizonz became the first company to have their Rooster powered booking site integrated with Xero, for even greater admin cost saving.
Encouraging pre-payment
Where many online systems only accept credit card payment, the Booking Rooster provides for bank deposit, check and cash payments – at the site owner's discretion.
By actively encouraging credit card payment, Vertical Horizonz has been able to convert many customers to pre-payment. "It took 4-6 months for our team to get really comfortable with the pre-payment conversation. Now is really works for us."
As well as the obvious cash-flow benefits the move to pre-payment has relieved pressure on the admin team. "When everyone paid on invoice we were spending 80% of our time chasing smaller clients for just 20% of debt. Now we can spend that time working with our larger clients to resolve any issues holding up their payments. We're spending our time on the right debt."
Discounting tools
Vertical Horizonz has also found the discounting tools make offering loyalty rewards simpler. "In the old days we noted the client's discount on their file and hoped our team would remember to apply it. Now we send loyal clients their voucher code so they can enter when they book."
In the next edition of the Vertical Horizonz series we'll look at how the Booking Rooster System boosts enrolments.